Imply® is present in the São Paulo State Legislature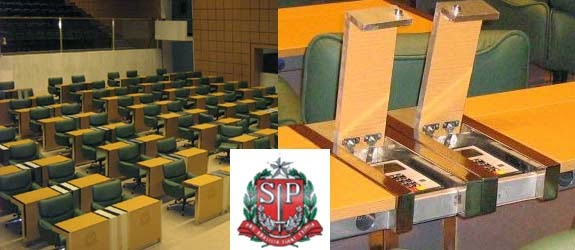 Since december 2006, Imply® Technology is present within the São Paulo state legislature, the ALESP, the greatest state legislature in Brazil,with 94 parlamentarians.
Innovating once more with his TECHNOLOGY, facilitating COMMUNICATION in the precint, increasing SECURITY of the votings, Imply has installed a voting terminal system with an exclusive design for the ALESP, being inlaid in the hall tables.
This terminals feature a big graphic display that allows the exihibition of several informations and images from the legislature matters. The membrane keyboard offers more practicity in the votations and helps the VISUAL handicapped, featuring in high-relief numbers and letters in braille.
The BIG DIFFERENTIAL of this new terminals is the use of BIOMETRIC I.D. Technology (fingerprint I.D.) for the users. This technology offers maximum security for the votings, because it prevents repetition of votes, not registered users votes, system frauds, etc…
Once again IMPLY INNOVATES, seeking to be a differencial in the state legislatures and city councils, increasing his range of parlamentarian products already produced by the company.