Imply® is featured in Case of Success at the National Meeting of Traffic Departments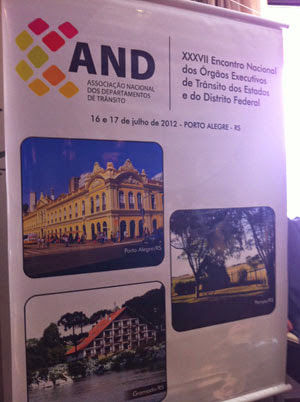 On and July 16th and 17th, Imply® was featured in the success Case of the Traffic Department of the state of Minas Gerais, in the National Association of Traffic Departments Meeting, in Porto Alegre, Brazil. On that occasion, Dr. Oliveira, Head of Department of Minas Gerais Traffic, presented the Successful case of the project with Imply® Consultation Kiosks.
With the success of the project, which was also recognized by the 2011 IT & Government Award, there was wide acceptance of the population. Since October 2008, when the first units were installed, until today, have been held more than 6.5 million queries. Currently Minas Gerais has 98 Imply® Kiosks positioned at strategic points in the state.
Decentralize services is one of the advantages of the kiosks, bringing the Traffic Department closer to the population, with services available 24 hours a day. Thus, it is possible to reduce the number of people seeking services at headquarters. With the terminals, there is a reduction in the queues at the organs, providing greater comfort and efficiency of time for the population.
People can easily access various services through Imply® kiosks, such as information about vehicles, driver, fines, fees, etc. Access to the system is fast and convenient. See the views of users:
"The self-service kiosks brought agility, so we do not need to stand in long queues that took hours of waiting." – Josiah Alves dos Santos. Divinópolis – MG
"With the kiosks, the service is great, fast and we have comfort." – Admilson de Souza Brito Filho. Sacramento – MG